Welcome to UMS-CoFA 2020

The Research Management Center, Universiti Malaysia Sabah is pleased to announce the organizing of the First UMS Colloquium on Fundamental Research and Application 2020 (UMS-CoFA 2020) 17 August 2021 in conjunction with PEREKA 2020, APUMS 2020 and KONCEPP 2020. UMS-CoFA 2020 provides a conducive platform for UMS researchers to share their cutting-edge research activities in fundamental research and their application in solving fundamental problems. UMS supports and strives to excel in pertinent fundamental research areas and their application, with academia accountability, partnering with public and industry in line with the government vision for sustainable socioecology.


UMS-CoFA2020 Theme

Redefining UMS research and innovation through synergistic effort with public and industry in the relevant fundamental research areas and their applications, with academia accountability, and for sustainable socioecology.


Venue
First UMS Colloquium on Fundamental Research and Application (UMS-CoFA 2020)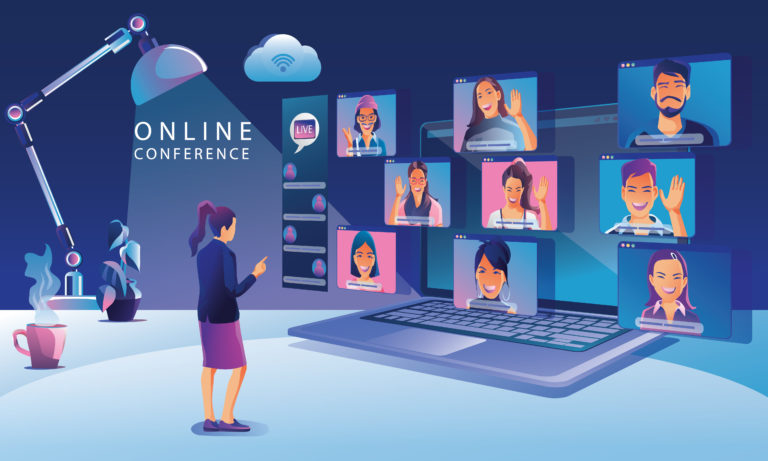 Venue:
Virtual
Date:
17 August 2021
Keynote Speakers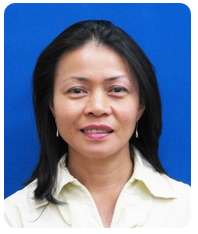 Professor Dr. Helen Benedict Lasimbang,
Director, Universiti Malaysia Sabah Hospital (UMSH)
Title:
The Impact of COVID-19 on the Voiceless Groups of Sabah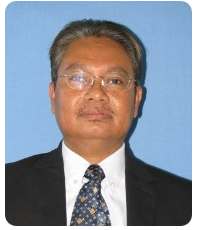 Professor Dr. Rosazman Bin Hussin,
Director, Borneo Institute For Indigenous Studies (BORIIS)
Title:
Community-Based Ecotourism and Social Innovation for Rural Community Development
Scope of the Colloquium

Scope of the colloquium are, but not limited to fundamental research and application in:

Business, Economics and Accountancy
Computing and Economics
Engineering
Food Science and Nutrition
Humanities, Arts and Heritage
International Finance
Medicine and Health Sciences
Psychology and Education
Science and Natural Resources
Sustainable Agriculture


Important Dates

Due Date for Accepted/Reviewed Paper Submission: *12 July 2021, 11:59hr
Colloquium: 17 August 2021

Note: This is the date the reviewed and accepted papers by the respective Faculty/Institute/Center scientific committee should be received by CoFA-2020 Secretariat.


Registration and Payment to UMS-CoFA2020
UMS-CoFA2020 is part of the Convention on Research, Publication, and Commercialization (KONCEPP) event. Registration and payment for UMS-CoFA2020 is arranged at the portal of Research Management Center of UMS,
https://ppi.ums.edu.my/
under PEREKA & KONCEPP. More information on KONCEPP could be accessed at
http://excocipta.online/
.
Flowchart for Paper Submission to UMS-CoFA2020

To ensure a smooth manuscript submission, article review, correction and all other processes, the following flowchart is suggested to be adopted by respective faculty in handling paper submission to UMS-CoFA2020.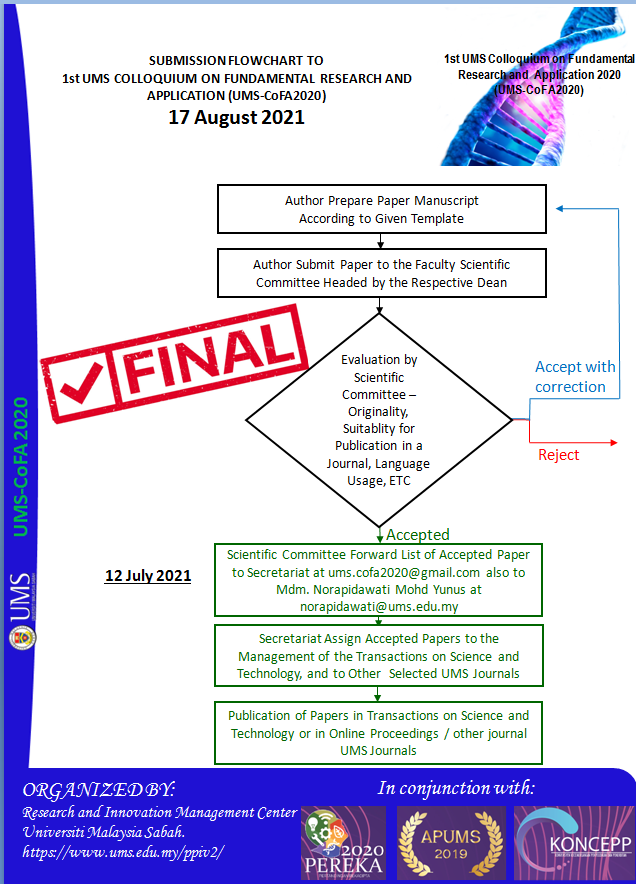 Publication
Selected papers will be published in
Transactions on Science and Technology
, a journal indexed by MyJournal which is recognized by MyRA, as well as in other journals published by UMS Press. Preliminary paper submission will be included as unedited online proceedings published by UniSE Press.
For publication in Transactions on Science and Technology, paper manuscript must be submitted in maximum 6-page using the journal's template. Please download the template
here
. Please strictly follow the format given to increase the visibility of your paper on the internet. For Transactions on Science and Technology, you may check the format of the journal from the latest
published issue
.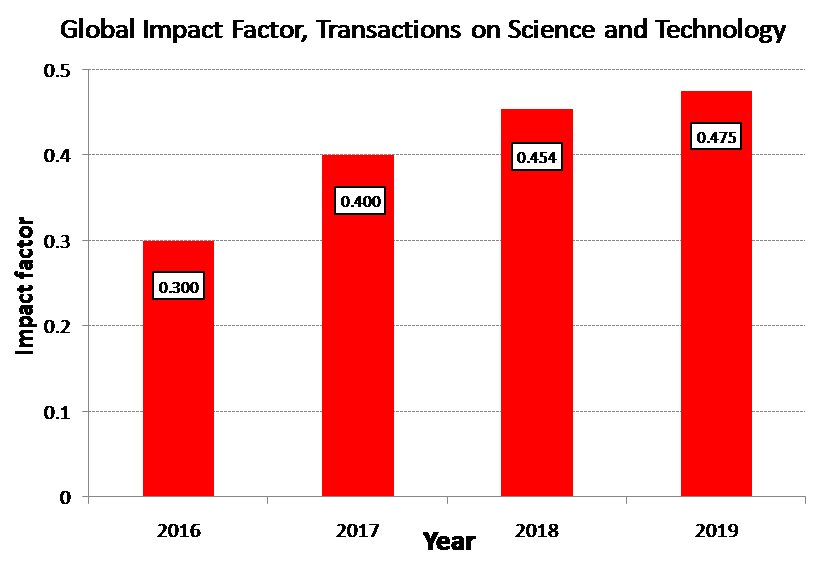 Review Guidelines
All submission will be reviewed by the Scientific Committee at the respective faculty. To ensure that all accepted papers are of similar quality and standard, reviewers are recommended to use the same review procedure. Therefore, all reviewers are suggested to use
this form
to assess paper submission. This form will be submitted to the Scientific Committee at the respective faculty for accept/reject decision.
Contact
Any enquiry regarding participation in the colloquium should be addressed to Research Management Center, Universiti Malaysia Sabah.
Queries regarding manuscript submission and selection should be addressed to the Scientific Committee headed by the Dean in their respective faculty/institute/center.
Questions regarding paper publication could be addressed to
[email protected]
Accepted papers
Currently we are finalizing the list of accepted paper submission. Please come back here again soon for complete list of papers.
The paper acceptance is based on recommendation from the Scientific Committee of respective faculty/institute/center. If your paper is not listed, please contact the head of respective faculty/institute/center Scientific Committee.
Faculty of Food Science and Nutrition
Paper ID
Authors / #Presenter
Title
FSMP01
D.K Rafidzah Ak Mohiddin#, M. Shelin, Leoneeta Rozwen Hassan
Food Aid Essential Preparedness for Pre and Post-Earthquake Disaster: Case Study Mount Kinabalu Tragedy
FSMP02
Fan Hui Yin#, Lee, J.S., Mansoor Abdul Hamid, Hasmadi Mamat, Md Jahurul Haque Akanda, Siti Faridah Mohd Amin
Potential of Fruits for the Production of Vinegar with Functional Properties
FSMP03
Ai Ling Ho#, Chen Er Wong, Chee Kiong Siew
Effect of Selected Spices On In Vitro Digestibility of Cooked Rice
FSMP04
Beatricia Amelia Boniface#, Jumardi Roslan, Hay Chye Ling, Lee Jau Shya, Mohd Dona Sintang, Md. Jahurul Haque Akanda, Suryani Saallah, Mohd Zuhair Mohd Nor
Effect of Heat Treatment on Physicochemical Properties of Bambangan (Mangifera Pajang Kosterm) Fruit Juice
FSMP05
Jau-Shya Lee#, Ramlah George, NurDiyana Yusoff, Jo Ann Fong
Enhancing enzymatic resistance of green Saba banana flour by pullulanase debranching and autoclave-cooling treatment
FSMP06
Leoneeta Rozwen Hassan#, DK Rafidzah AK Mohiddin, Nurul Afiqah Abd Rahman
Consumers Readiness to do Away with Single-use Plastic Straws
FSMP07
Mariam Abdul Latif#, Suhaimi Ab Rahman
Knowledge and Attitude on Halal Food and Islamic Eating Practices Among Students of Universiti Malaysia Sabahs
FSMP08
Md Jahurul Haque Akanda, Disa, P.A.A., Norazlina Mohammad Ridhwan#, Patricia, M., Ramlah, M.R.G., Hasmadi Mamat, Mansoor Abdul Hamid, Fan Hui Yin, Jumardi Roslan, Norliza, M.J., Lee, J.S.
Effects of Drying Pretreatment on the Changes In Seeds Microstructure and Fatty Acids of Mango Seed Fat
FSMP09
Dg Nur Shafanadirah Ag Sulaiman, Muhd Kamil Zakaria, Ramlah George, Patricia Matanjun#
Sensory Evaluation and Nutrient Composition of Noodles Enriched with Wood Ear Mushroom (Auricularia polytricha) Powder
FSMP10
Siti Faridah Mohd Amin#, Kharidah Muhammad, Roselina Karim, Yus Aniza Yusof, Hasmadi Mamat, Mohd Dona Sintang
A review on the Stability of Chlorophylls and Metallo-Chlorophyll Complexes in Fruits and Vegetables
FSMP11
Hana Binti Mohd Zaini#, Mohd. Dona Bin Sintang, Suryani Binti Saalah, Noorakmar Ab. Wahab, Jumardi Bin Roslan, Wolyna Pindi
Effect of Banana Peel Flour Incorporation (Musa acuminata) on Physicochemical and Sensory Profile of Chicken Sausage
FSMP12
Chee Ping Fadzel Wong#
A Review of Honey Supplementation on Bone Metabolism Markers and Sports Performance
FSMP13
Norliza Julmohammad#, Don Otter, Yacine Hemar, Umi Hartina Mohd Razali, Sarizan Sabari
Physicochemical Properties and Heat Stability of Whey Protein Isolate-Lactose Conjugates Formed by Dry-Heating
Faculty of Business, Economics and Accounting
Paper ID
Authors / #Presenter
Title
FPEP01
Salmah Topimin#, Siti Rahayu Mohd Hashim
An overview of Government Business support Programs for micro and small businesses in Malaysia during the Covid-19 Crisis
FPEP02
Salmah Topimin#, Noor Fzlinda Fabeil, Mat Slleh Ayub, Merlyn Rita Buncha
Entrepreneurship and Motherhood: A Narrative Analysis of the Entrepreneurial Journey of a Woman Entrepreneur
FPEP03
Sharija Che Shaari#, Sharifah Rahama Amirul
Realigning Occupational safety and health (OSH) Legislation with Flexible Working Arrangement (FWAs)
FPEP04
Chin Yee Ting, Lim Fui Yee Beatrice#, Dayangku Aslinah Abd Rahim
Determinants of Underemployment in Sabah
FPEP05
Lim Fui Beatrice Lim#, Roslinah Mahmud, Khairul Hanim Pazim, Cheong Jia Qi, Noor Faziedah Chun Lee
Could Work From Home Arrangement Increase Female Labour Force Participation in Malaysia?
FPEP06
Borhan Abdullah#, Rostika P. Boroh, James Alin, Kasim Mansur, Roslina Mahmud
The effect of COVID-19 lockdown on homestay operators in Mesilou Village, Kundasang- A concept paper
FPEP07
Nor Fzlinda Binti Fabeil#, Juliana Langgat, Khairul Hanim Pazim, Roslinah Mahmud
Distribution Channel for local Farm based Produce: A study on small farmers during pandemic crisis
FPEP08
Sharifah Rahama Amirul#, Jakaria Dasan, Khairu Hanim Pazim, Rasid Mail
Human resource quality as a labour productivity measure in service industry
FPEP09
Sidah Idris#, Nelson Lajuni, Al-Nasri Weli, Siti Hajar Samsu, Charlie Albert
Innovative Value chain: Solution to enhance company performance during pandemic Covid-19 MCO in Sabah
FPEP10
Jia Qi Cheong#, Wong Hock Tsen, Kasim Mansur
Covid-19 E-commerce comparison in experiences and overcoming between countries
FPEP11
Sharija Che Shaari#, Ida Shafinaz, Marja Azlima Omar, Rini Suryati Sulong, Jacquline Pugh-kitingan, Gaim @ James Lunkapis, Stephen Laison Sondoh Jr, Raman Nordin
Revisiting the Definition of Native Of Sabah: A Doctrinal study
FPEP12
Jaratin Lily#, Sidah Idris, Abdul Rahman Yaakob, Zuraidah Jamrin, Nurfarhana Mohd Saidi
Sabah TAMU Operator's Intention to Stay in the Current Business Due to COVID-19 Pandemic: A Preliminary Results
FPEP13
Debbra Toria Nipo#, Jennifer Chan Kim Lian, Fiffy Hanisdah Saikim
Exploring the potential of herbal tourism in Sabah: A case of Dai-C-Recreation Centre, Kiulu
Biotechnology Research Institute
Paper ID
Authors / #Presenter
Title
IPB01
Rovellyn L.O., Fan, H.Y. , Zarina, A. , Mansa, R., Wong, C.M.V.L.#
Isolation Yeasts from Grapes for Rice Wine Starter Preparation
IPB02
Ignatia Justine#, Grace Joy Wei Lie Chin, Wilson Thau Lym Yong, Mailin Mission
Growth Behaviour of Rhodotorula toruloides on Palm Oil Mill Effluent
IPB03
Raimalynah Abd Razak#, Meiny Suzery, Rafida Razali, Zarina Amin, Ruzaidi Azli bin Mohd Mokhtar, Lee Ping Chin, Cahyo Budiman
Inhibition activity of some medicinal plant extracts towards caseinolytic protease proteolytic subunit of Plasmodium knowlesi
IPB04
Erma Rizah Abdul Sani#, Wilson Thau Lym Yong, Grace Joy Wei Lie Chin, Mailin Misson
Growth and Lipid Production of Isochrysis galbana in an Upscaled Cultivation System
Borneo Marine Research Institute
Paper ID
Authors / #Presenter
Title
IPMB01
Muhammad Dawood Shah, Balu Alagar Venmathi Maran#, Ching Fui Fui, Sitti Raehanah Muhamad Shaleh
Antiparasitic Potential of a Medicinal Plant against Marine Parasitic Leech in Aquaculture
IPMB02
Maria Magdalene De John#, Rossita Shapawi
Comparison of Proximate and Amino Acid Compositions of Sabah Pelian, Tor duoronensis from the Wild and Tagal System
Faculty of Social Sciences and Humanities
Paper ID
Authors / #Presenter
Title
FSSK01
Badariah Saibeh#, Ong Puay Liu
Orang Tiada Kewarganegaraan Dan 2 Peluang Pendidikan: Kisah 'Nija'.
FSSK02
Nur Firzana Rosman#, Kee Y. Sabariah Binti Kee Mohd Yussof, Jalihah MD Shah, Jurry Foo @ Jurry Bt. F. Michael, Mahadirin Bin Hj Ahmad, Ramlah Daud
Kemiskinan Digital Dalam Kalangan Peniaga Luar Bandar : Suatu Pengenalan
FSSK03
Nor Shahzanani Sudirman#, Kee. Y. Sabariah Kee Mohd Yussof, Mahadirin Ahmad, Jalihah Md Shah, Jurry Foo, Ramlah Daud, Md Hafizi, Liew Thor Seng
Penggunaan E-Pembelajaran dan Pengaruhnya Terhadap Perkongsian Maklumat Dalam Kalangan Kakitangan Akademik IPT/IPTS di Sabah
FSSK04
Dzurizah Ibrahim#, Marsitah Mohd. Radzi, Colonius Atang, Oliver Valentine Eboy, Kee Y Sabariah Kee Mohd Yussof, Badariah Saibeh
Work-From-Home and Employment Relations 1 during COVID-19 MCO in Malaysia
FSSK05
Sri Ningsih Sukirman#, Jabil Mapjabil, Maryama Ag. Daud, Rosli Sareya, Soffriezan Yahya, Patricia Jipoh
Resilien dan Adaptasi Penggiat Seni Dalam Membudayakan Persembahan Seni Secara Talian (Digital) Sebagai Normal Baharu Pasca Covid-19
FSSK06
Jinky Jane C Simeon#, Jacqueline Pugh-Kitingan
Integrating Literature and Music for Classroom Teaching with an Interactive Story Book
FSSK07
Saini Ag. Damit#, Bambang Muhamad Rafadi Yusoff, Noorafini Kassim, Nor Ain Manap
Jenis-Jenis Seni Kaligrafi Arab Sebagai Hiasan di Masjid-Masjid Daerah di Sabah
FSSK08
Badariah Saibeh#, Mohd Soffian Osman, Gusni Saat, Mohd Lutfi Hafifi Japili
Pengetahuan COVID-19 dan Perintah Kawalan Pergerakan (PKP) Komuniti di Pulau Mabul, Semporna, Sabah.
FSSK09
Oliver Valentine Eboy#, Haryati Abd Karim, Lizalin Kalang
Mapping The Potential Pattern Of Covid-19 Disease Risk Using Spatial Analysis In Kota Kinabalu, Sabah.
FSSK10
Intan Soliha Ibrahim#, Assis Kamu, Jurry Foo @ Jurry Bt F. Michael
Listeners Perspective in Sabah Towards Concept of Radio Technology.
FSSK11
Harifah Mohd Noor#, Jabil MapJabil, Adilah Md Ramli, Jurry Foo @ Jurry Bt F. Michael, Ubong Imang, Rima Abdul Rahman, Nazihiyah Asli
Impak Dan Kesampaian Bantuan Kerajaan Terhadap Usahawan Pks Dalam Tempoh Pasca Pandemik Covid-19 – Satu Penelitian Awal.
Faculty of Computing & Informatics
Paper ID
Authors / #Presenter
Title
FKI01
Elinne Yong, Aslina Baharum#, Rozita Ismail, Farhana Diana Deris, Ismassabah Ismail, Noorsidi Aizuddin Mat Noor
Gamification For Tourist Guide Application.
FKI02
Siti Hasnah Tanalol, Aslina Baharum#, Nordin Saad, Januarius Gobilik, Mohd Nasir Samsulbahri
MyAgriShop App: Linking Rural Farmers with Consumers To Increase Vegetable Sale and Improve Food Distribution During Covid-19 Pandemic and Beyond.
FKI03
Christie Pei-Yee Chin#, Suaini Sura1, Soo Fun Tan, Lai Po Hung, Sharon Sam Mee Kwan
Is This True or Fake News? A Conceptual Fake News Identification Model.
FKI04
Suhaila Jaffar, Dinna @ Nina Mohd. Nizam#, Aslina Baharum, Nooralisa Binti Mohd Tuah, Farhana Diana Deris, Noorsidi Aizuddin Mat Noor
Student engagement in Learning: A Preliminary Study on Digital Educational Application.
FKI05
Jackel Chew Vui Lung# , Jumat Sulaiman
A new splitting for Gauss-Seidel iteration in solving one-dimensional Porous Medium Equations.
FKI06
Chai Chuan Wooi, Ervin Gubin Moung#
A Review of Image Sentiment Analysis through Facial Expression Recognition.
FKI07
Mohd Khairulanwar Rizalman, Ervin Gubin Moung#, Jamal Ahmad Dargham, Sigeru Omatu
A Survey on Drying Technology for Agricultural Area: State-of-The-Art, Opportunities, Trends and Challenges.
FKI08
Mohd Shamrie Sainin# , Mohd Hanafie Haris
Kadazandusun Speech Recognition: A Case Study.
FKI09
Siti Hasnah Tanalol, Aslina Baharum#, Mohamad Maruf Ahmed, Asni Tahir, Azali Saudi, Shaliza Hayati A. Wahab, Nordin Saad, Jurry Foo
Development of AR Mobile Apps for STEM Education.
FKI10
Afdal Marmoh, Shaliza Hayati A. Wahab#, Nordin Saad, Azali Saudi
UMS Pedestrian Detection from UAV Aerial Images Using Deep Learning: Lessons Learned.
FKI11
Ahmad Rizal bin Ahmad Rodzuan#, Nazlena Mohamad Ali, Azlina Ahmad
Gamification Design Framework to Increase Emotional Engagement Amongst Primary School Children.
FKI12
Ainnecia Yoag#, Nooralisa Mohd Tuah, Fatimah Ahmedy, Carolyn Salimun
A preliminary study in designing a mobile app for supporting emotional wellbeing of injured athletes during rehabilitation: UX Approach.
FKI13
Asni Tahir#, Elvin Malih, Salmah Fattah, Siti Hasnah Tanalol, Samrie @ Mohd Shamrie Sainin
A Web-based Vehicle Position Tracking System.
FKI14
Nurfaizurin binti Ebrahim, Carolyn Salimun#, Ng Giap Weng
Intuitive Virtual Object Manipulation with Real-time Face Recognition and Face Extraction Features for Interactive Museum Application.
FKI15
Chung Seng Keau, Chin Kim On#, Mohd Hanafi Ahmad Hijazi
Smart-Hadir - Mobile based Attendance Management System.
FKI16
Nurul Farahin Hikmatullah binti Darwisal, Christie Pei-Yee Chin, Ng Giap Weng#, Angeline Lee Ling Sing
Implementation of Cloud Database in Mobile Augmented Reality.
FKI17
Nurfazlin Muhamad Feizal Franslin, Giap Weng Ng#
Vision-Based Dynamic Hand Gesture Recognition Techniques and Application - A Review.
FKI18
Chong Joon Hou, Mohd Khairulanwar Rizalman, Maisarah Mohd Sufian, Ervin Gubin Moung#
The Effect of Moment-Invariant on Covid-19 Detection System.
FKI19
Esmadi Abu Abu Seman#, Hanudin Amin, Nor Aziati Abdul Hamid, Azley Abdul Razak
Digital Divide - The Rural Internet Adoption in Malaysia.
FKI20
Bagner Decruzz Juilis, Farashazillah Yahya#, Baba Musta, Bashirah Ahmad Fazli
Modeling the Water Quality Trends for Predicting Coastal Recreational Suitability using Deep Learning Approach.
FKI21
Ezly Elkana Jaulih, Farashazillah Yahya#
Multiple Domain Biodiversity Data Analysis: A Process to Support Big Data Integration.
FKI22
Hadzariah Ismail#, Mithraa Sangaran, Lau Mei Yean
Exploration on Knowledge Factory Framework process for Requirements Analysis Environment.
FKI23
Iza Azura Ahmad Bahar
Government Web Applications Development Process: Lessons from a State-Led Development Initiative.
FKI24
James Mountstephens#, Nur Syahirah Binti Shoed
Can Vader Handle Malaysian Rojak? Experiments with Food Tweets.
FKI25
Jonathan Likoh#, Nona M Nistah, Teong Khan Vun, Hadzariah Ismail
Mini Survey in Multi Objective Optimization on Nature Inspired Method.
FKI26
Laura Jack#, Zamhar I. Ismail
Teaching Programming Concept with Board Games.
FKI27
Tan Choon Beng, Mohd Hanafi Ahmad Hijazi#, Frazier Kok, Mohd Saberi Mohamad
Artificial Speech Detection using Image-based Features and Random Forest Classifier.
FKI28
Tan Chia Wei, Mohd Hanafi Ahmad Hijazi#, Suraya Alias, Ag Asri Ag Ibrahim, Mohd Fairuz Iskandar Othman
Intelligent Course Recommender Chatbot using Natural Language Processing.
FKI29
Nooralisa Mohd Tuah#, Ainneci Yoag, Cheang Wan Chin
A Dashboard-based System to Monitor the Progression of Final Year Student Project.
FKI30
Nordin Saad#, A'qilah Ahmad Dahalan, Azali Saudi
Poisson Image Composition using Red-Black Ordering.
FKI31
Mohd Aidil Safwan, Siti Hasnah Tanalol#, Giap Weng Ng
A Brief Comparative of Indoor Positioning System.
FKI32
Suraya Alias#, Mazliah Majalin
An Educational Text Summarizer Tool using Keyword-Cluster based approach.
FKI33
Syed Nasirin#
The Circumstances Affecting Successful Requirements Analysis in Government Agencies in Less-Developed Province.
FKI34
Syed Nasirin#
The Circumstances Affecting Local Government Public Information Systems Development.
FKI35
Amboala T#, S. Nasirin, EAA Seman, IAA Bahar
Commercialization of ITIS Research Outcomes and Technological.
FKI36
Amboala T#, S. Nasirin, EAA Seman, IAA Bahar, H Ismail
The Commercialization of Computing Artefacts and Technological Entrepreneurship in University Incubation Programs.
FKI37
Tan Soo-Fun#, Zachary Benjamin Goh Yu Liang, Fatimah Ahmedy
Shielding Mobile Healthcare with Grid-Based Honey Encryption.
FKI38
Zaidatol Haslinda Abdullah Sani#, Dinna @ Ninna Mohd Nizam, Aslina Baharum
Participatory design apps from the older adults to the older adults.
FKI39
Chun Yung Wonga, Giap Weng Ngb, Ag Asri Bin Ag Ibrahim#
Review: Human Motion Recognition Based on Kinect Sensor and Leap Motion Controller.
FKI40
Nona M. Nistah#, Jonathan Likoh, Suaini Sura, Syed Nasirin, Hadzariah Ismail
IoT Technology Adoption Among Aqua-farming Micropreneurs Within the Coastal Community in Sabah.
Borneo Institute For Indigenous Studies
Paper ID
Authors / #Presenter
Title
BorIIS01
Nor Arifah Mohd Nor#, Jeannet Stephen, Patricia A. Lajumin
Word Retrieval in Kadazandusun: Lexical Change among Native Speakers
BorIIS02
Jabil Mapjabil#, Nor-Ina Kanyo, Abentin Estim, Rosazman Hussin, Datu Razali Datu Eranza, Abdul Hamid Abdul Rahim, Badariah Ab Rahman, Natasya Farhana Nazry, Mohd. Halipah Jetendra
Tahap Pengetahuan Dan Ketersediaan Komuniti Semasa Tempoh Perintah Kawalan Pergerakan (PKP) Kesan Penularan Pandemik Covid-19 Di Kampung Kasuapan, Pulau Gaya, Sabah.
BorIIS03
Nor-Ina Kanyo#, Ahmad Tarmizi Abdul Rahman, Jabil Mapjabil, Rosazman bin Hussin, Jalihah Md Shah, Suhailah Abdul Muin, Oliver Valentine Eboy, Budi Anto Mohd Tamring, Datu Razali bin Datu Eranza, Nur Fitriaida Jamali, Jashmaira binti Kipli
Reaksi Dan Pengalaman Masyarakat Pulau Gaya Semasa Pelaksanaan Perintah Kawalan Pergerakan Covid-19 Di Kota Kinabalu, Sabah.
BorIIS04
Gaim James Lunkapis#, Kursam Ongui
Preliminary assessment on the usability of the Rapid Social Impact Assessment Matrix (RSIA) method to managed the Pandemic COVID-19.
BorIIS05
Rosazman Hussin, Johan Johnes#, Jabil Mapjabil, Badariah Ab Rahman, Jeannet Stephen
Native Court In Kudat And Matunggung, Sabah: Ecosystem Structural And Governance Challenges.
BorIIS06
Nor-Ina Kanyo#, Ahmad Tarmizi Abdul Rahman, Rozasman Hussin, Aliakbar Gulasan, Norhuda Salleh, Teuku Afrizal Teuku Anuar, Rosdiana Betare
Persepsi Komuniti Pulau Gaya Dalam Menggunakan Kemudahan Dan Keselamatan Jeti Awam Pulau Gaya.
BorIIS07
Ahmad Tarmizi Abdul Rahman#, Nor-Ina Kanyo, Jabil Mapjabil, Rosazman bin Hussin, Jalihah Md Shah, Suhailah Abdul Muin, Oliver Valentine Eboy, Budi Anto Mohd Tamring, Datu Razali bin Datu Eranza, Nur Fitriaida Jamali, Jashmaira binti Kipli
Langkah-Langkah Keselamatan Semasa Pelaksanaan PKP Covid-19 Di Pulau Gaya, Kota Kinabalu, Sabah.
BorIIS08
Jabil Mapjabil#, Kasim Mansur, Gaim James Lunkapis, Harifah Mohd Noor, Badariah Ab Rahman, Nabila Farysha Dering
Kesanggupan Untuk Membayar (WTP) Di Destinasi Pelancongan Terpilih Di Kundasang-Ranau, Sabah - Nilai Kadar Bayaran, Kesesuaian Dan Cadangan.
BorIIS09
Gaim James Lunkapis#, Erwina Nuar
Innovation Of Land Ownership Procedures Through Life Cosmology Of Sabah Indigenous Communities.
BorIIS10
Jeannet Stephen#, Rosazman Hussin, Andreas Totu, Henry Bating, Rosy Talin, Reany Koton
Indigenous Language Learning: Voices of Orang Asal Parents on the Teaching of Bahasa Kadazandusun in schools.
Faculty of Engineering
Paper ID
Authors / #Presenter
Title
FKJ01
Yong Pooi Chee, Salinah Dullah#, Sivakumar Kumaresan, Habibah Ghazali, Aslina Baharum, Siti Jahara Matlan
Case Study: Preliminary Design Standard For Bus Stop In Universiti Malaysia Sabah
FKJ02
Noor Sheena Herayani Harith# , Nur Izzati Husna, Mohd Irwan Adiyanto, Ahmad Nurfaidhi Rizalman, Sk Muiz Bin Sk Abd Razak
Vulnerability Index of KK Buildings Due to Past Earthquakes
FKJ03
Habib Musa Mohamad#, Syarifah Nur Maisarah Zamri, Ibrahim Yasir Arif, Muhammad Nursyahrain Mustafa
Determination of In-Situ Density and Physical Properties With Microstructure of Klias Peat Soil
FKJ04
Chung Han Lim#
Assessing Ballistic Impact of Firearm Projectiles on Compressed Earth Bricks
FKJ05
Jason Lowell Jitolis, Awang Nasrizal Awang Ali, Nurmin Bolong#
Water Quality Modelling Using QUAL2K at Likas River, Sabah
FKJ06
Nurmin Bolong#, Ismail Saad, M. Amran Madlan
Manufacturing of Beach Cleaning Machine at Universiti Malaysia Sabah (UMS) Prototype Design and Analysis
FKJ07
Lillian Gungat# , Mohd. Ishaq Selamat, Muhammad Saufi Sulaiman, Nurmin Bolong
Effects of Sandstone River Aggregate on Crumb Rubber Warm Mix Asphalt
FKJ08
MooiKhee Teoh, Kenneth TzeKin Teo, SooFun Tan, HouPin Yoong#
A Review: Vision-based Object Graspiong Automation With QR-Code
FKJ09
Ferlorna Freddie John Luji, Kenneth TzeKin Teo, SooFun Tan, HouPin Yoong#
A Review: Heating and Cooling Mechanisms for SMA Actuator
FKJ10
Mohd Suffian Misaran Misran, Heng Jin Tham, Christopher Chi Ming Chu#, Djamila Harimi
Assessment of Airwell Performance in Single-Storey Terraced Houses
FKJ11
Beng Chew Lim, Adeline Shu Ting Tan, Arham Abdullah, Wan Ahmad Amir Zal, Jidon Janaun#
Solar Drying Characteristics of Palm Fruitlet Under Natural Convection
FKJ12
Ayuni Nasrin Binti Mohd Sukiri, Adeline Shu Ting Tan, Arham Abdullah, Wan Ahmad Amir Zal, Jidon Janaun#
Drying Characteristics and Nutritive Analysis of Coffee Beans Under Different Drying Methods
FKJ13
Carla Goncalves De Oliveira Sarmento, Awang Bono, Duduku Krishnaiah, S M Anisuzzaman, Jidon Janaun#
Adsorption of 2-Acetyl Pyrroline Using Treated Rice Husk
FKJ14
Sara Vinothini Pannirselvam, Alex Walzico Robert, Sariah Abang, Abu Zahrim Yaser, Jidon Janaun#
Oil Sorption Behavior of Natural Kapok Fiber as An Alternative to Commercial Synthetic Fiber
FKJ15
Valerian Kong, Jidon Janaun#
Diameter of Vertical Aerator from LAMB Dryer on Air
FKJ16
Decklary Jawing, Syahriadi Syahril, Mohd Hardyianto Vai Bahrun, Rachel Fran Mansa#
Palm Kernel Shell Activated Carbon for Lead and Methylene Blue Removal
FKJ17
Noorafizah Murshid, Junidah Lamaming, Sariah Saalah, Mariani Rajin, Mohd Al Mussa Ugak, Abu Zahrim Yaser#
Vegetable Waste Composting: A Short Review
FKJ18
Chen Chen Chung, Abdul Karim Mirasa, Zahrim Yaser, Jidon Janaun#
Review and Evaluation of Non-thermal Chemical Flooding for Enhanced Oil Recovery
FKJ19
Noor Maizura Ismail, Nurliyana Nasuha Safie, Manjulla Subramaniam, Nur Syafidah Junaidi, Abu Zahrim Yaser#
Comparison Between Fresh and Degraded Biochar for Ammonium Ion Removal From Wastewater
FKJ20
Nancy Julius Siambun#, Ooi Shen Ching, Melvin Gan Jet Hong, Chua Bih Lii
Solar Concentrator for Electro-Conversion of CO2 to Solid Carbon
FKJ21
Wai Heng Choong# , Muhamad Nizam Bin Nasip
Ultrasonic Atomiser System Performance Characterisation Study for Water Purification System Development
FKJ22
Siti Nor Hafiza Binti Mohamad, Wai Heng Choong#
Fabrication and Preliminary Assessment of Aramid Reinforced Polymer Composite Material Development
FKJ23
Yan Yan Farm#, Dg. Dinie Amani binti Ag. Mat Daud, Mohd Azlan bin Ismail, Aroland Kiring
Design and Development of a Smart Aquaponic System with a Self-Cleaning Drainage Pipe and Real Time pH Monitoring System
FKJ24
Nahiyan Al-Azad, Mohd Kamal Mohd Shah#, Sanjay Mohan
The Study of Specific Energy Absorption of Natural Fiber Honeycomb Sandwich Structure Composite for Construction Industry Application
FKJ25
M. Kamel W. Ibrahim#, Mohd Suffian Misaran, Rachel Mansa, Hazuwafa Hassan
The Evaluation of Molybdenum Disulphide (MoS2) as an Additive in Vegetable Oils
FKJ26
Hutharsan Mahendran, Mohd Suffian Bin Misaran @ Misran#, Md. Mizanur Rahman, Mohd Adzrie Radzali
Solar PV Surface Cooling Using Small Companion Solar Cell-Blowers
FKJ27
Zulkurnain Bin Hassan, Mohd Suffian Bin [email protected]#, Nancy Julius Siambun, Ag Sufiyan Abd Hamid, Mohd Amran Madlan
Feasibility of Using Solar PV Waste Heat to Regenerate Liquid Desiccant in Solar Liquid Desiccant Air Conditioning System
FKJ28
Mohd Adzrie#, Zachary Henry
Productivity Improvement by Using Lean Manufacturing Tools: A case study on Jishu Hozen implementation
FKJ29
Rosminah Mustakim, Mazlina Mamat#
The Nonlinear Autoregressive Exogenous Neural Network Performance in Predicting Malaysia Air Pollutant Index
FKJ30
Amirah Ismail, Mark Irwin Goh, Jbathra Nancy Jaibi, Hoe Tung Yew#
Wearable Remote Patient Monitoring System
FKJ31
Renee Ka Yin Chin#, Yew Lek Chong
An Investigation on the Effect of Skip-m Measurement Strategies on EIT Imaging Properties
FKJ32
Hafeza Abu Bakar#, Hafiz Majid, Siti Nurfarina Ismail
Optimization of Antioxidant Extraction on Banana Peels Using Response Surface Methodology
FKJ33
Chan Bun Seng, Ismail Saad#, Nurmin Bolong, Kang Eng Siew
Design and Analysis of Electromyography (EMG) Signal System for Clinical Rehabilitation
FKJ34
Mohd Asyraf Asidin, Emma Suali#, Farhana Abd. Lahin
Comparison on Experimental and Simulation Result on Drag Reducing Effect of Low Concentration Chitosan in Turbulent Flow
FKJ35
Othman Ahmad#
An Ideal Solar Powered Car: The Transparent Car
FKJ36
Zykamilia Kamin#, Chiam Chel Ken, SM Anisuzaman, Nurhamizah Abdul Ghani, Mohammad Abdullah, Ramzah Dambul, Mohd Hardyianto Vai Bahrun, Awang Bono
Tomato and Tomato Processing : A Short Review
FKJ37
Mohd Hardyianto Vai Bahrun, Ernee De Vanesa Halun, Zykamilia Kamin#, Awang Bono
Removal of Trace Oil From Palm Oil Mill Effluent Using Polypropylene Nanofibers as Adsorbent
Faculty of Psychology and Education
Paper ID
Authors / #Presenter
Title
FPP01
Guan Teik Ee#, Agnis Sombuling, Assis Bin Kamu, Ho Chong Mun
Theories of Happiness: A Simple Concept
Centre for the Promotion of Knowledge and Language Learning
Paper ID
Authors / #Presenter
Title
PPIB01
Kennedy Aaron Aguol#, Kavitha Ganesan, Anantharaman Govindasamy, Jane Wong Kon Ling, Shaffarullah Abdul Rahman, Jamsari Hashim
Digital Gastronomic Heritage of Multi-racial melting Pot in Foh Sang Market Post COVID-19
PPIB02
Halina Sendera Mohd Yakin#, Odetta Mashita Yahcob, Andreas Totu, Suraya Sintang, Siti Aidah Lokin, Junaidah Januin, Kwan Yien Yee, Siti Hasnah Tanalol
The Function and Implication of Internet Centre towards the rural community in the era of Covid-19 Pandemic: A Case Study in the Northwest Coast of Sabah
PPIB03
Saifulazry Mokhtar#, Kasoma Thia, Mohd. Taqwudin Mohd. Yazid, Habibah Artini Ramlie, Irma Wani Othman
Adat dan Ritual Kematian Masyarakat Suluk di Sandakan : Satu Tinjauan Awal
PPIB04
Abang Mohd. Razif Abang Muis#, Saidatul Sahirah Adam, Abdul Hair Beddu Asis, Syamsul Azizul Marinsah, Musmuliadi Kamaruding, Mohd Syahmir Alias, Mohamad Zulfakhairi Mokthar
Ke Arah Pembangunan Model Adaptasi Komuniti Pengeluar Tanaman Makanan Pasca Covid-19
PPIB05
Yin Ling Adeline Tam#, Tung Moi Chiew, Bing Zhu, Felix Septianto
Online Consumption Behaviour Changed During COVID-19 Pandemic in Malaysia: The Important Facts and Figures
PPIB06
Jamsari Hashim#, Kennedy Aaron Aguol, Kavitha Ganesan, Anantharaman Govindasamy, Jane Wong Kon Ling, Shaffarullah Abdul Rahman
Reinvigorating Indigenous Music Tourism in Sabah Post Covid-19
PPIB07
Nor Ain Manap#, Saini Ag Damit, Asiah Abas dan Noorafini Kassim
Literasi Bahasa Arab: Satu Pengenalan Kajian Persepsi dan Penguasaan Bahasa Dalam Kalangan Masyarakat Awam di Sabah
PPIB08
Habibah @ Artini Binti Ramlie#, Norshahrul Marzuki Bin Mohd Nor, Mohamad Basri Bin Jamal, Aishah Binti Tamby Omar
Citra Etnik Suluk Di Sabah : Satu Penceritaan Sosio-Budaya
PPIB09
Habibah @ Artini Ramlie#, Norshahrul Marzuki Mohd Nor, Mohd. Sohaimi Esa, Jamsari Hashim, Saifulazry Mokhtar, Irma Wani Othman
Hubungan Etnik Rentas Agama Dan Budaya Dalam Kalangan Pelajar: Satu Tinjauan Literatur
PPIB10
Suraya Sintang#, Nazmi Mohd. Khalli, Khadijah Mohd. [email protected]
Solidariti agama dalam hubungan Inter-Komuniti di Sabah
PPIB11
Suraya Sintang#, Keigley Lyod Al-Ganiyy K. Diaz
NGO-Agama dan Program Musa'adah Covid-19 dalam Menyantuni Golongan B40 di Sabah
Faculty of Science and Natural Resources
Paper ID
Authors / #Presenter
Title
FSSA01
Suzelawati Zenian#, Norhafiza Hamzah, Nur Batrisyia Ahmad Azmi
Intuitionistic Fuzzy Segmentation of Brain MRI
FSSA02
Fouziah Md Yassin#, Muhammad Shadli Latip, Saturi Baco, Afishah Alias, Ag Asri Ag Ibrahim
Facial Expression Effect on Signal Quality and The Attention Level of Mindwave
Faculty of Tropical Forestry
Paper ID
Authors / #Presenter
Title
FPT01
Nurliyana Aqilah Asri, Fazilah Musa#
Tourists' Attitudinal Factor Towards Mangrove Conservation: A Case Study of Kilim Karst Geoforest Park, Langkawi, Malaysia
FPT02
Elyria Crystta Johunis#, Hamimah Talib, Kamlisa Uni Kamlun, Rosmalina Abdul Rashid, Jennifer Chan Kim Lian
Local Community Involvement in Geotourism (Hiking) in Kampung Kinirasan, Ranau, Sabah
FPT03
Hamimah Talib#, Nurnadhira Najwa Zaidon, Rosmalina Abdul Rashid, Jennifer Chan Kim Lian.
Local Community's Acceptance of Mangrove Forest as a Sustainable Tourism Product: A Preliminary Findings
Faculty of Sustainable Agriculture
Paper ID
Authors / #Presenter
Title
FPL01
Aubrey Mei Li Lee, Mohd Rashid Mohd Rakib#, Clament Fui Seung Chin, Jaya Seelan Sathiya Seelan, Huei Hong Lee
Effect of Physicochemical Properties of Oil-palm-waste-based Substrates on Mycelia Growth Rate of Pleurotus ostreatus
FPL02
Noor Khairani Mohamad Basri, Januarius Gobilik, Lum Mok Sam, Chong Khim Phin, Kimberly Ador, Mohamadu Boyie Jalloh, Clament Chin Fui Seung#
Isolation and Characterization of Multifunction Beneficial Bacteria from Dairy Farm Effluent Compost
Preparatory Center for Science and Technology
Paper ID
Authors / #Presenter
Title
PPST01
Sitty Nur Syafa Bakri, Azlinah Matawali#, Nur Ramziahrazanah Jumat, Fadzilah Ag Kanak and Iziana Hani Ismail
Encouraging STEM interest among high school students in rural area of Sabah: A BOTANIstNJA module integrated with Problem-based Learning case
PPST02
Suriana Lasaraiya#, Suzelawati Zenian
Approximated Solutions for Fuzzy Polynomials
PPST03
Siti Nazirah Butai, Huzaikha Awang, Iziana Hani Ismail, Elnetthra Folly Eldy#
Effectiveness of PBL-STEM Module in Physics on Students' Interest: A Preliminary Findings of Implementation Amongst Students in Rural Area of Sabah, Malaysia
PPST04
Megawati Mohd Yunus, Ayu Afiqah Nasrullah, Nurhazwani Dahon, Noor Azimah Binti Pelah#
A Preliminary Study on the Graphic Development for Lab Instrumentation Model
PPST05
Huzaikha Awang#, Lling Lling Tan
Photocatalytic and Optical Properties of Reduced Graphene Oxide-Titanium Composite synthesized by Facile Wet Chemical Route
PPST06
Mohd Azrul Abdul Rajak, Nur Mizan Izzati Masran, Sazmal Effendi Arshad#, Eddy Mohd Farid Mohd Yusslee
Morphology of Lightweight Metakaolin-based Geopolymer Polystyrene Composite Paste at Early Ages
PPST07
Ayu Afiqah Nasrullah, Nur Hazwani Dahon#, Mohd Azrul Abdul Rajak, Megawati Mohd Yunus, Nur Anneliza Abd Latip, Sazmal Effendi Arshad, Eddy Mohd Farid Mohd Yusslee
A Preliminary Study on STEM Encouragement in Chemistry Subject: The Learning Experience of SMK Usukan Students in STEM AUMS Warrior Program